1) MAGIX music maker 14
Simply create music! The perfect solution for stunning songs!

---
2) MAGIX mega mix e-version
The ultimate remix software for creating the hottest tracks and remixes

---
3) JScreenFix 1
Repair stuck pixels and burn-in on LCD and plasma screens.

---
4) iTones 1.0
Inside iTones you can find hundreds of ringtones

---
5) MAGIX audio cleaning lab 14
Digital perfection for all recordings! The complete audio solution!

---
6)
Ares Light 2.0
---
7) Satellite TV to PC 2009.147
Satellite Tv to Pc - Over 4000 LIVE worldwide channels on your PC. 100% Legal

---
8) Virtual Music Jukebox 6.6
Virtual Music Jukebox is an award winning digital MP3 jukebox that brings the look and feel of a Modern, Internet Ready, Bar Style Jukebox right to your desktop or stand alone Jukebox Cabinet..

---
9) Satellite TV Pro 3.0
Watch of 3000+ Satellite channels free with our software!

---
10) Stream TV PDA 1.0
Watch more than 1400 free streaming TV channels on your PDA including porn

---
11) Sine Generator 1.0
Program generates 2-channel sine audio signals using PC sound card.

---
12) Hit-Recorder 1.3.20.25
Hit-Recorder nimmt automatisch bis zu 20 Radiosender gleichzeitig auf.

---
13) Desktop RTA 1.0
DesktopRTA is a real-time sound analyser for your PC with many features only found in much more expensive sound analysis software

---
14) MP3 Cutter Joiner v1.00
MP3 Cutter Joiner is a powerful and easy-to-use audio editor, which builds audio cutter and joiner into one.

---
15) WGP FolderLock 2006 1.1
Lock your folders by making them appear as another part of your computer.

---
16) Softlock.CD 4.0
CD protection is a protection technique,from illegal distribution.

---
17) WinKeyFinder 1.61
Retrieves Lost Windows Product Key!

---
18) Stream TV 4.70
Watch more than 1700 free streaming TV channels on your PC including porn

---
19) !Super Audio Recorder 8.83
Super Audio Recorder Software - Freeware

---
20) CDRWIN 6.1.0.4
CDRWIN 6 - burns like hell. CDRWIN 6, that's easy recording your CDs and DVDs.

---
21) Virtual Singer 3.0
Make your computer sing ! (plug-in for Harmony or Melody Assistant)

---
22) TuneSleeve 1.0.9
A quick and easy way to get album artwork into your iTunes library.

---
23) Birds 1.00
Birds flying over your current screen

---
24) Blaze Audio WebEQ 2.6
WebEQ is a realtime graphic equalizer for your computer

---
25) Extreme Skateboarding Screensaver 1.0
Epic full-screen photos of skateboarders doing what they do best...

---
26) Dolby Surround Plugin 4.7
One of the best consumer sound enhancement/improvement/dsp effects software for digital music

---
27) Vinyl Ripper 1.0
Vinyl Ripper records, splits and converts long wave files to Ogg and MP3 format.

---
28) m3uEdit1 1.2
m3uEdit is a simple m3u playlist creator/editor. Drop any filetype to list.

---
29) n-Track Studio 6.0
Multitrack Music Recording and Editing software

---
30) VoomTube 2.5.0
The Web's Premier Downloading Software & TV player. Watch & Search with VoomTube

---
31) Media Graveyard 10
It's our latest Music / Video jukebox player with built in Skin Designer™.

---
32) VividLyrics 2.0.2
Karaoke lyrics plugin for Windows Media Player 9/10 and Winamp 5.x.

---
33) Ringtone Editor 1.0
Create your own ringtones for your realtone mobile! Import from an audio cd.

---
34) BOINK (for Windows) 3.1
Share and import playlists, meet firends, get cool tools for iTunes.

---
35) PodPlus 1.0.3
Copy music off an iPod and put contacts, calendars, email, news and more onto it

---
36) Flash File Recovery Software tool 1.0
automatic utility for flash card and digital camera memory data recovery

---
37) Sound Capture 1.2.2004
Sound Capture is an application that can record sound up to 5 minutes and store in memory for playing

---
38) Test Tone Generator 4.11
Turns the PC into a function generator for testing, demonstrating, education etc

---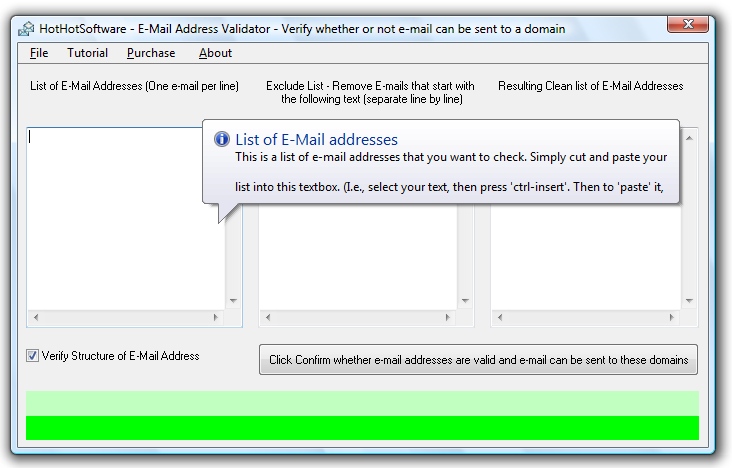 39) E-Mail Validator - check and verify if an e-mail address exists and is valid by using the mailserver Software! 2.0
Verify whether e-mail addresses are valid by contacting the mail server to see

---
40) tutor 1.0
Violin practice software with integrated tuner and sight reading software

---
41) the shiznit 1.1
the shiznit is an advanced visualization program that displays graphics that dance to the music playing on your computer

---
42) MindSoft Utilities XP 9.61m
19 high performance utilities for Windows XP. Optimizes. Repairs. Protects.

---
43) Mp3Merge App 1.0
Mp3Merge mix your Mp3 tracks

---
44) Mp3Doctor 5.02
Analyze, improve, or standardize your MP3 files different in quality, volume, bitrate, and so on

---
45) Sound Generator 3.12
The audio frequency sinusoidal signal generator is intended for adjusting and measuring parameters of audio equipment

---
46) TuneJack 1.0.3
iPod utility to easily and safely transfer songs off an iPod to your PC / iTunes

---
47) ipMIDI 1.0
ipMIDI - A MIDI over Ethernet DriverNo more MIDI interfaces needed to communicate between applications on different PC's

---
48) Replay Music 3.50
Automatically Record and Tag High-Quality MP3s from Online Music Sites & Videos.

---
49) MultiTone Generator 1.6
Multi oscillator function generator for testing, demonstration, effects etc

---
50) Streaming Audio Studio 7.3.5
Streaming Audio Studio: Streaming Audio Recorder, Editor and Converter.

---