2351) PDF to Image SDK/COM(5threads) Server License 3.6
AP PDF to IMAGE Batch Converter is a useful pdf tool.

---
2352) MS Access Import Multiple Text Files Software 7.0
Load text files (or csv files) to MS Access.

---
2353) LogStomper 2.0
Simplify & Optimize Log File Analysis

---
2354) ActSoft DVD Tools ActiveX 3.8.6
Convert any DVD to VCD, SVCD, MPEG-1, MPEG-2, MPEG-4, AVI, DivX, and XviD.

---
2355) PDF In-The-Box ActiveX 3.02
An ActiveX control to create PDF documents programmatically. Free deployment!

---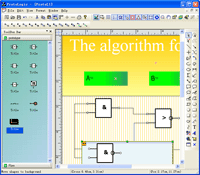 2356) E-XD++MFC Library Enterprise V10.0 10.0
E-XD++ Library for by UCanCode.Net Software, an C++ class framework

---
2357) Portuguese ->Spanish Database 1.0
Dictionary Database Portuguese ->Spanish to integrate into your applications

---
2358) Teroid Data Grid Print Control 2.1
.NET component providing methods and properties for printing a Data Grid

---
2359) RapidXLL_NET 1.2
RapidXLL converts C++ into Excel Addins, .NET Libraries, and HTML Documentation

---
2360) DreamCoder for Oracle DBA 4.1
Powerful tool for Oracle PL/SQL development and administration.

---
2361) DreamCoder for Oracle Enterprise Edition 4.1
Powerful tool for Oracle PL/SQL development.

---
2362) 23 PadBlaster 1.0.0
Promote your software with our automated pad submitter.

---
2363) HXTT Excel 1.0.003
Pure Java Type 4 MS Excel JDBC (1.2, 2.0, 3.0) Drivers for MS Excel

---
2364) GdPicture Pro Image Processing ActiveX 2.5.0.0
GdPicture is an image ActiveX component to view create edit and compose bitmap

---
2365) Image Viewer CP Pro TIF PDF ActiveX OCX 2.5
FAX, TIFF ,PDF image viewer processing

---
2366) Protara Standard Edition 1.0
Protara is an easier way to build applications for Windows or Windows Mobile.

---
2367) TX Text Control ActiveX Professional 14.0
Royalty-free, high end word processing ActiveX.

---
2368) TX Text Control ActiveX Server 14.0
Fully programmable word processing engine for deployment in an ASP.

---
2369) GdPicture Pro Image ActiveX ToolKit 2.4.0.16
GdPicture is an image ActiveX component to view create edit and compose bitmap.

---
2370) Barcode.dll 1.0
Barcode.dll is a powerful .NET component for creating barcode images.

---
2371) ABarCode ActiveX Control Xp
ABarcode is an ActiveX control that allows you to print barcodes

---
2372) Spire.DataExport 1.4.8
Spire.DataExport for Visual Studio .NET Free Download

---
2373) IGS-Replicator 2.0
IGS-Replicator is a solution for the exchange of data between databases.

---
2374) ASP/PageRank 1.00
ASP component that allows web developers to to retrieve Google's PageRank value.

---
2375) Klorofil Platform 0.2
Open source PHP Platform with desktop GUI and web application frameworks.

---
2376) Think HTML Editor Control v 3.9
Developers, integrate a full set of HTML Editing features in your next project.

---
2377) UCCDraw Flow/Diagramming Component 9.80
UCCDraw ActiveX Control is an ActiveX control that allows creation and editing..

---
2378) GIS ObjectLand 2.6.3
GIS ObjectLand is a universal Geographic Information System for Windows

---
2379) DynaPlot.Net 1.0
Real-time .net chart control with built-in tools for technical applications

---
2380) zxChart 2.0
Creates dynamic charts in the Macromedia Flash™ SWF format.

---
2381) LTF-Cimulator 1.0
Software for easy simulation and development of LTF-C neural networks

---
2382) SQLTools 1.4.1 build 58
SQLTools is a light weighted and robust tool for Oracle database development.

---
2383) EasyEmail ActiveX DLL 1.0
This easy-to-use ActiveX control offer you the possibilities to may send emails out off your Visual Basic 6 application! It also contains the possibility of neutral email IDs, and show you continuous its mailing online status

---
2384) SELLIT Sales and Marketing 3.5
SELLIT Sales and Marketing Suite for Windows XP/2003/2000/NT/ME/9X

---
2385) SDE for IBM WebSphere (PE) for Windows 1.1 Profess
SDE for IBM WebSphere is a full-featured UML plug-in module for IBM WebSphere.

---
2386) Snow Removal 6.0
If you remove snow, this free software is for you.

---
2387) SDE for Eclipse (ME) for Linux 1.1 Modeler Edition
SDE for Eclipse is an easy-to-use UML tool seamlessly integrated with Eclipse.

---
2388) ZylSerialPort 1.0
Thread based asynchronous serial port component

---
2389) DISLIN for MS Visual C++ 8.3
DISLIN is a high-level scientific data plotting library

---
2390) CreateInstall 4.14.7
Versatile, flexible and powerful installer for producing fully featured setups.

---
2391) SSLSocket Wizard ActiveX 3.0
Use SSL Communications channel in your application.

---
2392) Visual Documents v2.0
Create Visual Basic Source Code to print any document you need

---
2393) TN BRIDGE Host Integration Pack for ActiveX 3.5
Host Integration components for .NET, VB and Delphi

---
2394) eDocEngine VCL 2.0
Generic electronic document creation component suite for Delphi and C++Builder

---
2395) RBarcode for .NET 1.0
.NET Windows and Web controls that creates 1D and 2D barcodes

---
2396) OOReport.NET Source Code 1.01
Source Code for Object Oriented Database Reporting component for .NET platform.

---
2397) Software-Promoter 3.3.08
Software-Promoter is a registration orders processor and promotion database.

---
2398) Aspose.BarCode 1.3
Aspose.BarCode is a robust and reliable windows forms component

---
2399) Gagnon-Harper Chart 2.0.1.1
CHART DATA like never before... Create "ch-ART" - your own virtual masterpieces!

---
2400) AudioLab VC++ 4.0.1
AudioLab is a set of VC++ components for fast audio capture and processing.

---


Browse Pages: [1] [2] [3] [4] [5] [6] [7] [8] [9] [10] [11] [12] [13] [14] [15] [16] [17] [18] [19] [20] [21] [22] [23] [24] [25] [26] [27] [28] [29] [30] [31] [32] [33] [34] [35] [36] [37] [38] [39] [40] [41] [42] [43] [44] [45] [46] [47] 48 [49] [50] [51] [52] [53] [54] [55] [56] [57] [58] [59] [60] [61] [62] [63] [64] [65] [66] [67] [68] [69] [70] [71] [72] [73] [74] [75] [76] [77] [78] [79] [80] [81] [82] [83] [84] [85] [86] [87] [88] [89] [90] [91] [92] [93] [94] [95] [96] [97] [98] [99] [100] [101] [102] [103] [104] [105] [106] [107] [108] [109] [110]