501) RegSweep 2009.146
RegSweep is the latest in PC Error Diagnostic and Repair. Scan Your PC For Free!

---
502) Advanced Directory Printer 1.50
Print or save your file/folder lists.

---
503) Windows XP Service Pack 2 (SP2)
Microsoft Windows XP Service Pack 2 addresses the latest updatest and fixes for Windows XP

---
504) EZMem Optimizer 2.0.25
Emsa EZMem Optimizer is a very simple Free RAM utility

---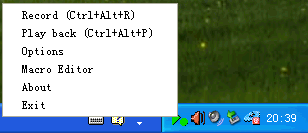 505) Easy Macro Recorder 3.75
record what you operate and create a replayable script

---
506) Solway's Task Scheduler 1.2
Run programs or open files or tasks to a schedule.

---
507) Best Registry Cleaner Comparison Tool 1.1
Learn about the top registry cleaners on the web in charts and full reviews.

---
508) RememberMe 1.0
The 100% free password storage utility

---
509) Delete FXP Files 1.2.72
Delete FXP Files helps you clean up a FTP server after it has been tagged with files and folders that use reserved itentifiers that Explorer and the command prompt cannot handle correctly

---
510) PowrClik 1.1-19f
Schedule Suspend/WakeUp/Shutdown/Hangup etc.

---
511) StarWin
This software package combined with StarPort working as a client allows you to - share CD/DVD burners over the network and use your favorite CD/DVD burning applicationto burn CD/DVD remotely - share tape drives over the network and use your favorite tape backup application to backup to tape drive remotely - share hard disk drives over the network for fast storing large amounts of data (replication) at block-level rather then doing this at file-level - backup whole server storage subsystem over the network w/o putting machine down - work with the virtual volumes, dynamic volume snapshots, incremental backups - create extremely fast RAM disk drives for temporary data storing - mount standard ISO and MDS images into created Virtual DVD drives.

---
512) a Must Registry Cleaner 3.11
Smart and Safe approach to Registry Cleaning. New AMUST Registry Cleaner 3.11

---
513) Clone Cleaner PRO 1.02
HCC is an easy-to-use program designed to find out and remove duplicate files with same name, same size, same content on your local or network computers

---
514) Key Transformation 5.36
Customize keyboard layout; Change key on keyboard; On screen keyboard.

---
515) MD5 Checker 2.31
Free utility to verify downloads with an MD5 checksum

---
516) OpenzUp 1.0
OpenzUp is an easy-to-use file opener that opens your favorite files quickly

---
517) PowerArchiver 9.25
The ultimate archive utility

---
518) PocketPC Battery Monitor 1.0
Comprehensive battery info on your PocketPC Today screen.

---
519) CDDVDWorker 4.2.2
PBurn Easy Burning CD/DVD Worker Studio is a burning application tool

---
520) ! Xp Repair Pro 35.44
XP Repair Pro 2007 Scans and Repairs over 50,000 Windows Errors - FREE TRIAL

---
521) Ashampoo UnInstaller Platinum 2 2.81
Stop Windows® Slowdown!

---
522) My PC Accelerator 2.0
A pc accelerator to fine-tune pc resources to make pc performance easy.

---
523) QNote 1.0
QNote is an sticky note for reminders, to-do lists, web and e-mail accessing

---
524) VLink 1.0
VLink is a powerful desktop link program; use it to create fast access links to your most used programs, files and folders, and speed up the general use of your computer

---
525) Zip Repair Tool 3.0
Zip File Repair Tool to repair corrupt zip file. Repair Broken Zip File.

---
526) Registry Easy - Clean Optimize 2006
Windows Registry Cleaner, Error Message Fix and Access Violation Repair Software

---
527) RegDoctor 2.14
Fix Windows Registry Problems to Improve Your System's Performance.

---
528) eConcept Memory Booster 4.0
Increase your RAM and speed up your computer.

---
529) Ram Magic 1.0
Ram Magic makes your PC run smoother and faster.

---
530) Floppy Diskfix 2.0
Repairs the floppy disk bootsector giving you access to your lost data.

---
531) WS_FTP Password Recoverer 2.5
Password recovery for WS_FTP!

---
532) PicoZip 2.8
An easy to use file compression utility , designed to be easy to use for beginners and advanced users alike

---
533) Remote Printer Manager 2.0.2
Manage printing devices installed on computers over a LAN or WAN

---
534) Paragon Partition Manager (Personal) 7.0
Provides easy hard drive partitioning and full-range disk management

---
535) NS Keylogger Personal Monitor 5.0
NS Keylogger records everything that is entered from the keyboard

---
536) Zipeg for Windows 2.1.0.852
free utility for Windows to extract from zip, rar and other archives.

---
537) MS Outlook Password Recovery 1.024
Recovers passwords to Microsoft Outlook e-mail accounts accounts and PST files.

---
538) Ez OFF 5.3.3
PC Timer - automatically shutdown, reboot, lock PC and to keep it locked

---
539) Acronis Disk Director Suite 10.0 with 08 10.03
Reorganize your PC for better performance and data protection.

---
540) Game Player 7.0.200 7.0.200
Game Menager "Player" If you have a lot of cool games and the shortcut's waste space on desktop my Game Player can help you

---
541) WinDos 1.3 Rev 6
DOS Command Prompt and Explorer mini directory utility speeds up access.

---
542) SizeExplorer Pro 4.6
Powerful disk space usage analyzer with folder size, charts and clickable report

---
543) KeyText 3.12
Keyboard macro program with multiple clipboard and Windows automation features.

---
544) Auto Window Manager 1.5
Resize programs automatically,transparent windows,minimize to tray,stay on top.

---
545) ProPoster 2.02.13
Print banners or posters from any picture, digital photo, Word, Excel

---
546) Memory Washer 5.2
Robust memory optimization tool

---
547) Outlook PST Recovery 7.05.01
Perform Outlook PST recovery in the simplest manner

---
548) Ashampoo WinOptimizer 4 4.41
3 New Modules and Full Windows Vista™ Compatibility

---
549) DiskInternals NTFS Reader 2.0
Get files from NTFS volumes with NTFS Reader for Windows 95, 98, Me.

---
550) Touch-It - Virtual keyboard 3.0
On screen Virtual Keyboard with designer

---


Browse Pages: [1] [2] [3] [4] [5] [6] [7] [8] [9] [10] 11 [12] [13] [14] [15] [16] [17] [18] [19] [20] [21] [22] [23] [24] [25] [26] [27] [28] [29] [30] [31] [32] [33] [34] [35] [36] [37] [38] [39] [40] [41] [42] [43] [44] [45] [46] [47] [48] [49] [50] [51] [52] [53] [54] [55] [56] [57] [58] [59] [60] [61] [62] [63] [64] [65] [66] [67] [68] [69] [70] [71] [72] [73] [74] [75] [76] [77] [78] [79] [80] [81] [82] [83] [84] [85] [86] [87] [88] [89] [90] [91] [92] [93] [94] [95] [96] [97] [98] [99] [100] [101] [102] [103] [104] [105] [106] [107] [108] [109] [110] [111] [112] [113] [114] [115] [116] [117] [118] [119] [120] [121] [122] [123] [124] [125] [126] [127] [128] [129] [130] [131] [132] [133] [134] [135] [136] [137] [138] [139] [140] [141] [142] [143] [144] [145] [146] [147] [148] [149] [150] [151] [152] [153] [154] [155] [156] [157] [158] [159] [160] [161] [162] [163] [164] [165] [166] [167] [168] [169] [170] [171] [172] [173] [174] [175] [176] [177] [178] [179] [180] [181] [182] [183] [184] [185] [186] [187] [188] [189] [190] [191] [192] [193] [194] [195] [196] [197] [198] [199] [200]