101) SokoMind 3.4
Sokoban puzzle

---

102) SolSuite 2006 - Solitaire Card Games 6.2
SolSuite 2006 is a high-quality collection of 451 different Solitaire Card Games

---
103) 18 Wheels of Steel American Long Haul 1.00
Your American Dream Starts Behind the Wheel of Your Own Big Rig!

---
104) MostFun CAKE MANIA - Unlimited Play Free Version 1
CAKE MANIA

---
105) GameShock 1.5
GameShock is a universal cheat finder for many games running on Windows

---
106) J-Ball 1.0
J-Ball - original Jezzball-like free game. Download Full Version for Free!

---
107) PSP Downloader 1
access to custom PSP backgrounds, PSP programs, and bonus tutorial guides.

---
108) SnailMail 1.0
Help Turbo the Snail deliver Galatic Mail and stop the evil slug pirates!

---
109) Blades of Heaven 1.1
40H, 8 characters, 100+ monsters, if you like old school RPG, download this!

---
110) Fairyland Online 1.0
Cute style MMORPG based on fairy tales story

---
111) Mah Jong 1.00
A timeless, innovative boardgame.

---
112) Chutes and Ladders
Children will jump ahead on ladders and slide back down the chutes on three different game boards.

---
113) Stitch Designer
Whether you're a novice stitcher or a professional designer you can create a cross-stitch that is truly original.

---
114) Dope Farmer 1.1
Become a dope farmer and harvest illegal drugs!

---
115) G-Hotkey 1.0
G-Hotkey is a macro, key remapper, and automation utility designed to work specifically with commercial computer games

---
116) Laxius Power III 1.1
Massive, non-linear 200H RPG, halfway between Final Fantasy and Baldur's Gate

---
117) 18 Wheels of Steel Haulin' 1.01
Go from gearjammer to boss man in the trucking business!

---
118) MechWarrior 3
In MechWarrior your mission is to conduct a high-impact commando raid on one of the last Clan outposts possibly breaking the back of the Clans forever.

---
119) Brain Train Age 5.0.24
Train your brain on your PC to improve your brain age with simple, fun exercises

---
120) Sudoku 1.0
A free off-line sudoku game!

---
121) Ultraleecher 1.2418
UltraLeecher - Mach das Usenet einfach

---
122) Spray Paint 1.0
3d spray paint screensaver by www.fatbuddhastore.com

---
123) Spy Fox Operation Ozone
You're on mission 'Operation Ozone.' The mischievous 'Poodles Galore' is up to no good.

---
124) Reflex 1.05
Improve your speed and accuracy when working with a computer mouse!

---
125) JannieBalls 1.0.4
Very addictive Jawbreaker clone for Windows

---
126) Pontifex 10.19.01
Design and build bridges. Then test them with trains

---
127) DirectX Drivers (Windows 98/Me) 8.1
DirectX is the multimedia system foundation for Windows operating systems

---
128) Hot Rod: Garage to Glory
Your garage your way.

---
129) CashBot - Catch-21 Edition 2.0
This bot for the WorldWinner.com game Catch-21 can win you tons of cash daily!

---
130) 3D Live Snooker 2.69
3d live snooker simulates snooker with full 3d environment and perfect 3d sound

---
131) Carnivores 2
Carnivores 2 is survival of the fittest where you explore a vast new world inhabited by prehistoric creatures.

---
132) Laxius Power II 1.1
40H old school RPG, featuring 10+ exciting characters!

---
133) 8BallClub Billiards Online 2.5
3D Billiards Game with realistic graphics, detailed physics and lifelike sound.

---
134) CheatBook-DataBase 2007 1.0
Compilation of Cheats for over 11900 Games for PC-Games and Console.

---
135) Unreal Tournament 2003 Demo
Unreal Tournament 2003 is the sequel to 1999's multiple 'Game of the Year' award winner

---
136) Putt Putt Joins the Parade
Putt Putt an adorable purple car wants to join the Cartown Parade.

---
137) Tennis Elbow 2005 1.0
Tennis Elbow 2005 is the best 2D tennis game, featuring both fun and realistic gameplay

---
138) GoldBowl 2.0
GoldBowl is a very realistic bowling game for one and two players, with complete control over your ball's power and aim, with music and professional scoring system, with exciting 3D graphics! Attractive, well-designed sport game for all ages!

---
139) Game Cheater ArtMoney 7.26
Free Universal Game Cheater for All games.

---
140) JawGrid 1.0
JawGrid is a PC Clone of the addicting JawBreaker (C) Game from the pocket PC.

---
141) Paint by Numbers
With Paint By Numbers you can take any image and convert it into a paint-by-numbers pattern.

---
142) Soul Reaver 2
The sequel to the critically acclaimed Legacy of Kain: Soul Reaver

---
143) Disciples II: Dark Prophecy Empire Demo 1.2
Disciples II: Dark Prophecy returns gamers to the magical realm of the Sacred Lands

---
144) Super Mario: Kamek - Magikoopa's Revenge 1.2
Freeware Super Mario game. Small, yet adicitive gameplay! :-)

---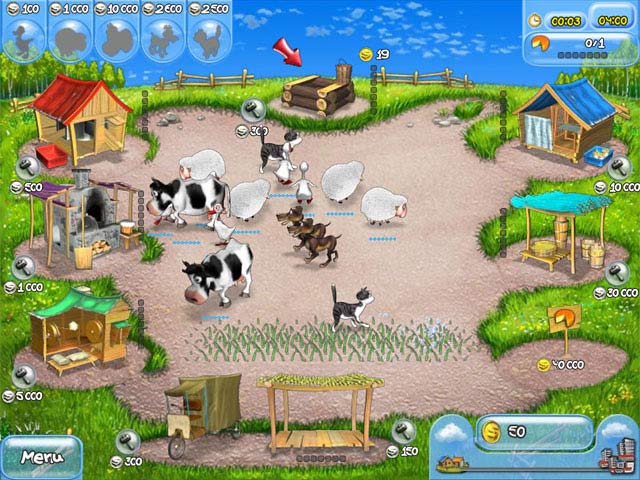 145) Farm Frenzy 1.1
Try your hand at running a farm!

---
146) MSN Install Genius 1.0
install msn winks, msn DDP, msn emotions for your msn account

---
147) B17 Flying Fortress: The Mighty Eighth
The U.S.

---
148) School Tycoon
Run your school the way you want to in School Tycoon.

---
149) RPG Patsy 2.0
A powerful Digital Character Sheet/Character Generator for D&D

---
150) Sinbad - Legend of the Seven Seas
In Sinbad: Legend of the Seven Seas(TM) you join Sinbad and his heroic companions on an epic adventure.

---


Browse Pages: [1] [2] 3 [4] [5] [6] [7] [8] [9] [10] [11] [12] [13] [14] [15] [16] [17] [18] [19] [20] [21] [22] [23] [24] [25] [26] [27] [28] [29] [30] [31] [32] [33] [34] [35] [36] [37] [38] [39] [40] [41] [42] [43] [44] [45] [46] [47] [48] [49] [50] [51] [52] [53] [54] [55] [56] [57] [58] [59] [60] [61] [62] [63] [64] [65] [66] [67] [68] [69] [70] [71] [72] [73] [74] [75] [76] [77] [78] [79] [80] [81] [82] [83] [84] [85] [86] [87] [88] [89] [90] [91] [92] [93] [94] [95] [96] [97] [98] [99] [100] [101] [102] [103] [104] [105] [106] [107] [108] [109] [110] [111] [112] [113] [114] [115] [116] [117] [118] [119] [120] [121] [122] [123] [124] [125] [126] [127] [128] [129] [130] [131] [132] [133] [134] [135] [136] [137] [138] [139] [140] [141] [142] [143] [144] [145] [146] [147] [148] [149] [150] [151] [152] [153] [154] [155] [156] [157] [158] [159] [160] [161]