301) Hunting Unlimited 3 1.2
Prepare yourself for the most realistic hunting experience ever!

---
302) Billario 2.0
A Super Mario type game

---
303) Park A Lot 2 2.0
Play Online Sport Games at TotallyGame.com - Park A Lot 2 and Enjoy!

---
304) LazyGame Memory Editor 1.20
powerful game cheating tool that can modify game data in memory easily

---

305) Bridge It 1.0
Design and build bridges. Can you bridge the chasm and avert disaster?

---
306) Mind Rover
Mind Rover encompasses the depth of play found in strategy games with a new concept in player control.

---
307) Blades of Exile 1.0
Fantasy role-playing game with scenario editor. Many free scenarios available!

---
308) Unreal Tournament 2003 CD Key Changer 1.1
Change your Unreal Tournament 2003 cd-key easily

---
309) mud hunt 1.00
'Dig-Dug' revamped for the 21st century!

---
310) Ultimate Demolition Derby
There's no room in this race for mama's boys.

---
311) Lux 4.3
A Risk style game of domination with random maps, hard AI, and online play.

---
312) 9Squares 2.0
The 9Squares is a fun arcade-style puzzle game for Windows. Tetris-like game.

---
313) Turtle Odyssey 1.0
Help a brave turtle get his shell back!

---
314) Powball 2.05
Set in the 25th century out in the cold debths of space this game challenges you with 100 levels in the classic style of the Breakout and Arkanoid games but with much more than the original offers

---
315) MegaMan Gamer 1.0
Play classic MegaMan on your computer.

---
316) Nokia Snake 2.75
Check out this version of the snake game commonly found on Nokia phones.

---
317) Strayfire 1.1
Stunningly beautiful 3D vertical-scrolling shooter with loads of firepower, hordes of alien enemies to blast, dynamic lighting, and tons of amazing special effects! Blast through four challenging levels with massive bosses and mini-bosses

---
318) Penguin Family 1.1.0
Help the penguins cross the river, don't let the small penguins scared.

---
319) Live Billiards 2.01
Live Billiards 2 - major pool games in 3D, play online, web club

---
320) Let's Explore the Farm
Let's Explore the Farm captures all of the fun energy and excitement of a real working farm.

---
321) Proton Half Life Key Chance 1.1
old Half-life key number chanced with new key serial. included 50 over key.

---
322) Midnight Outlaw Street Drag - Nitro Edition
Enter the streets after midnight to take on the toughest urban dragsters.

---
323) 18 Wheels of Steel Across America 1.0
Haul your cargo across the entire United States.

---
324) Charm Tale 1.12
Release from the spell the inhabitants of Fairyland in this charming puzzle.

---
325) FreeCell Plus 3.0
An addictive version of the popular solitaire game FreeCell

---
326) Motherload 1
Can you hit the motherload?

---
327) Extra MAME 7
A small MS Windows compatible GUI wrapper compatible with all M.A.M.E games.

---
328) Penguin versus Yeti 1.5
Enjoy a cute snowboard racing game and challenge giant yetis with your penguin.

---
329) GocartMania 1.0.6
GocartMania is a multi-player gocart racing game for Windows

---
330) Starlancer
Starlancer is the gripping space combat game from Erin and Chris Roberts, creators of the popular Wing Commander and Privateer series of games

---
331) Gold Strike
Gold Strike Deluxe is the super-charged version of CleverMedia's wildly popular Gold Strike game.

---
332) Snooker&Pool 1
A fun simulation for both Snooker And Pool that is supremely internet friendly.

---
333) Civilization III Conquests
Civilization fans will be impressed with Civilization III: Conquests.

---
334) Submarine 2.12
Your Mission : Bomb those Nazi Submarine, Save the World, Keep alive!

---
335) MPS-Sudoku 5.11
Create, play, and save Sudoku puzzles.

---
336) Slick Ball
Slick Ball is a game where real life physics and wide open 3D maze levels determine the actual game play.

---
337) Look n Find 1.0
Find five differences in two almost identical pictures.

---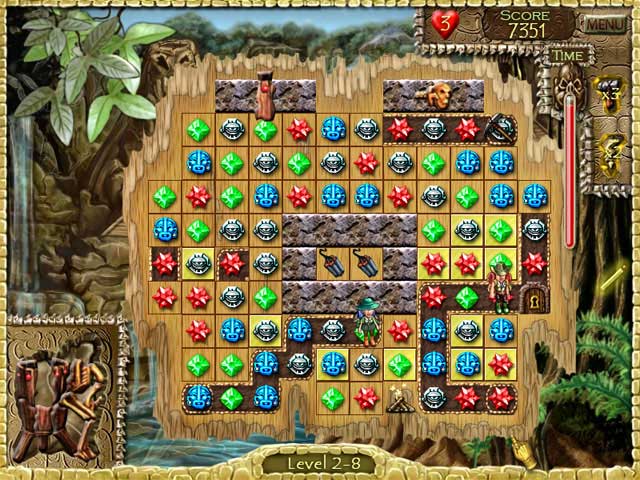 338) El Dorado Quest 2.7
Have a captivating adventure with Bob and Jane!

---
339) Collector's Gateway- (Lotro) 1.2.0
Free LOTRO software features include: Online Price Guide.

---
340) Backup Stronghold 1.0
Backup Stronghold maps and saved games.

---
341) Golf Buddies 1.0
Golf score and handicap keeper for yourself and all your golfing buddies.

---
342) Crystal Path 1.15
Remove beautiful crystals on your way through mysterious puzzle land.

---
343) Fun Photo Maker 2005
Create Fantasy Photos Featuring the Faces of Your Friends!

---
344) Alien Stars 1.12
Vertical Scrolling Space Shooter: an advanced remake of Galaga.

---
345) The Mastermind 1.0
Take on the role of a mastermind in this menu-based strategy game

---

346) Galactic Arkanoid 2.2
Overcome all hardships along with courageous heroes.

---
347) Tactical Ops: Assault on Terror
In Tactical Ops: Assault on Terror you are cast into the deadly world of counter terrorism.

---
348) GOOFY Soccer Demo 1.0
3d soccer (football) game with toony characters to give you the best gameplay.

---
349) The Labyrinth of Time 1.0
This classic first-person adventure game takes place in a maze built by the spirit of Daedalus

---
350) vNES - Nitendo Emulator for J2ME 1.4
Nintendo NES emulator for Java J2ME Cell Phones

---


Browse Pages: [1] [2] [3] [4] [5] [6] 7 [8] [9] [10] [11] [12] [13] [14] [15] [16] [17] [18] [19] [20] [21] [22] [23] [24] [25] [26] [27] [28] [29] [30] [31] [32] [33] [34] [35] [36] [37] [38] [39] [40] [41] [42] [43] [44] [45] [46] [47] [48] [49] [50] [51] [52] [53] [54] [55] [56] [57] [58] [59] [60] [61] [62] [63] [64] [65] [66] [67] [68] [69] [70] [71] [72] [73] [74] [75] [76] [77] [78] [79] [80] [81] [82] [83] [84] [85] [86] [87] [88] [89] [90] [91] [92] [93] [94] [95] [96] [97] [98] [99] [100] [101] [102] [103] [104] [105] [106] [107] [108] [109] [110] [111] [112] [113] [114] [115] [116] [117] [118] [119] [120] [121] [122] [123] [124] [125] [126] [127] [128] [129] [130] [131] [132] [133] [134] [135] [136] [137] [138] [139] [140] [141] [142] [143] [144] [145] [146] [147] [148] [149] [150] [151] [152] [153] [154] [155] [156] [157] [158] [159] [160] [161]