1) Pocket Tanks 1.0
1-on-1 artillery game with 30 unique new weapons and is lighthearted fun

---
2) AJ Empires 4.0
Create your own empire and puts you in control

---
3) Magic: The Gathering - Battlegrounds
Magic: The Gathering - Battlegrounds brings the Magic world to life as a real-time fighting/strategy game for the PC.

---
4) Close Combat III: The Russian Front
The latest game in the award-winning Close Combat series

---
5) Swarm Assault Deluxe 1.4
Swarm Assault is a real time strategy game that requires you to control huge swarms of ants, beetles, spiders, scorpions and wasps in a desperate attempt to control the landscape.

---
6) Age of Castles 1.0
Start with a single castle and expand your dominion until you rule the land.

---
7) Majesty
Fortify and enhance your castle with over 30 different building types.

---
8) Disciples 2 - Rise of the Elves 1.0
Disciples II: Rise of the Elves is a milestone in the Disciples universe

---
9) Dope Farmer 1.1
Become a dope farmer and harvest illegal drugs!

---
10) Master of Orion III
In Master of Orion 3 the sequel to one of the best-loved strategy games you become the controlling force behind an entire galactic civilization.

---
11) Toribash 2.1
Toribash is a turn-based fighting game.

---
12) Monster Garage
Twist mold and modify a standard vehicle into the monster machine of your dreams.

---
13) Zoo Tycoon
Zoo Tycoon puts you in charge of your very own zoo

---
14) MechCommander 2
Take control of an entire company of the most fearsome military machines in history: BattleMechs!

---
15) BattlePets 1.01
PC game much like Pokemon. Battle wild BattlePets and train your own.

---
16) Tower Defence 1.6
Build the strong defense to protect your kingdom using towers.

---
17) War Leaders 1.5
This is a hot-seat multiplayer strategy game (2-4 players)

---
18) Battleship Chess 2.0
Your own desktop navy for 1-2 players

---
19) LinCity Game 112pre53
Build & maintain a city/country, rule its economy.

---
20) Smugglers 21.0
SMUGGLERS 2 is the sequel of the known strategy-trading game for Windows.

---
21) Virtual Villagers 2 1.0
Continue the epic story of castaways of Isola now with new island events!

---
22) 3D BattleShip 3.0
The game 3D-BattleShip is a classic battleship game working in 3D graphics mode

---
23) Swarm Assault Deluxe 1.4
A real time strategy game that requires you to control huge swarms of ants, beetles, spiders, scorpions and wasps in a desperate attempt to control the landscape

---
24) mud hunt 1.00
'Dig-Dug' revamped for the 21st century!

---
25) Lux 4.3
A Risk style game of domination with random maps, hard AI, and online play.

---
26) Civilization III Conquests
Civilization fans will be impressed with Civilization III: Conquests.

---
27) Nine Men's Morris 1.1.3
Nine Men's Morris is an exciting capture and defend strategy game that is endlessly entertaining

---
28) Slay 1.0
All formats of Slay

---
29) Civilization III Gold Edition
In Civilization III you match wits against the greatest leaders of all time in a quest to build the ultimate empire.

---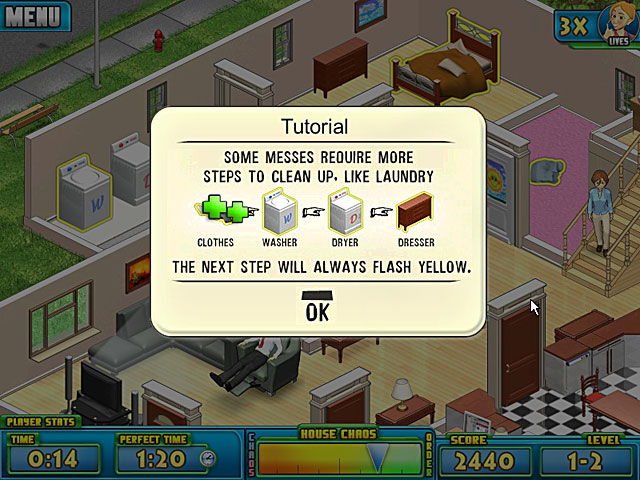 30) Nanny Mania 1.0
Be the perfect Nanny!

---
31) Awale 3.4
Awale is one of the most ancient games still played

---
32) ChessPartner 5.1
Love chess but can't find a real person to play with you? ChessPartner is a chess program that willfulfill your need

---
33) Abalone 1.2
A beautifully rendered strategy game played on a hexagonal board.

---
34) 2004 Top Tank 1.2.2
The ultimate 2D tank game with great graphics and gorgeous effects awaits you!You have not seen a 2D tank game like this one before

---
35) Backgammon Classic 7.2
Play backgammon against your computer, 3 levels available.

---
36) Dweep Gold 1.40
Lead Dweep through fun nonviolent puzzles to save the trapped baby Dweeps

---
37) Monopoly Tycoon
Monopoly Tycoon a simulation game is the traditional fantasy of 'owning it all' taken to the next level.

---
38) O.R.B. Off-World Resource Base
O.R.B.

---
39) Jojo's Fashion Show 1.0
Make stylish outfits from tops, dresses, and more as you showcase your fashion s

---

40) Styrateg 1.05
Turn-based strategy with strong RPG features from a fantasy medieval world

---
41) Industryplayer - Business Strategy Game 5.50
IndustryPlayer - Cutting edge entertainment for virtual entrepreneurs!

---
42) Astral Masters 1.1
Construct a deck of powerful creatures and spells in Astral Masters.

---
43) Billionaire II 1.09
Billionaire II is a new thrilling and exciting business game!

---
44) SeaWar: The Battleship 2 2.5
SeaWar: The Battleship 2.5 - Four 3D worlds, network, head-to-head, AI opponents

---
45) Bloody Football 0.7.1
A sports strategy game that can turn into open warfare!

---
46) Grand Master Chess 2.0
This chess simulator is strong enough to keep you alert throughout the game.

---
47) Starport Command 1.1
Take command as a captain on a starport in this 3D simulation game.

---
48) Stellar Frontier 1.1
A free massively multiplayer game that plays like an arcade game but with an overall strategic look and feel

---
49) Chess-7 2.4
Chess game

---
50) Socoban 1.0
A new puzzle game that promises to bring you a lot of fun

---