3151) VeraLab 2.4
Computer Lab Management System. Access control, security, maintenance, metering

---
3152) DetachPipe 5.0.9
Save,delete,compress,upload,access,detach/reattach MS Outlook email attachments

---
3153) PowerKey 2.11.12.15
Advanced encryption toolkit designed to protect your most sensitive data.

---
3154) ManageEngine EventLog Analyzer 4.0
Event management tool that reports on Windows and Unix event logs

---
3155) DoctorAdware 1.0
DoctorAdware can detect and remove a multitude of adware applications from your computer

---
3156) QIC Webfotoalbum 1.0
Present your digital images on the internet.

---
3157) MAPILab NNTP for Outlook 1.32
The best way to read and post messages to newsgroups from Microsoft Outlook

---
3158) Cliptrans 1.1
Cliptrans is a fast an easy to use language translation utility.

---
3159) Scrippy 3.02
Create beautiful e-mail and web pages with scrolling graphics, music and more!

---
3160) PopNot 2.0
PopNot is an intelligent pop-up killer that prevents pop-up windows from ever appearing, with no need to set up for particular websites or keywords and without needing to wait while a new pop-up window appears and disappears.

---
3161) SB-Phaseout 2.0
Revolutionary FlashMX Tabbed Browser

---
3162) WorldSave! Windows 99
World Geography Screen Saver Package

---
3163) iProtectYou Pro 7.06
Internet filtering / parental control and network monitoring software

---
3164) Simpliciti Family Browser 1.02
Personalize the Web for the entire family, Includes popup control & child safety

---
3165) BasicFTP 1.0
BasicFTP, fast, reliable and powerful client.

---
3166) Pageload 2.0
Pageload is a web copy and web security utility

---
3167) CoolBrowser Web Filter 1.0.72
CoolBrowser can grab specific sections of a web page for offline reading

---
3168) IM Lock Home Edition Single User 2.2
Blocking and Complete Control over Instant Messenging and Chat programs

---
3169) Clip Downloader 1.02
Clip Downloader is a web site content leech and downloader.

---
3170) GCN 2.9.1
A secure, complete, and free communications suite, in one integrated application

---
3171) QuickSender 1.1
Simple SMS, Email, ICQ sender with skin grapfic interface.

---
3172) Olvio.Ecommerce for Authorize.Net 1.0
Olvio.Ecommerce is a payment processing class library for Authorize.Net.

---
3173) eBay Auction Sniper and Snipe Bid Tool 3.1
Snipe eBay Auctions with this auction sniper and bid tool.

---
3174) ICQPromoter 1.1
ICQPromoter is a powerful Marketing and Promotional tool for sending messages.

---
3175) Style Master 3.5
Cascading style sheet editor combining WYSIWYG editors with hand coding tools

---
3176) PC Net Checker 1.2
PC Net Checker is an application in which it can graphically form on your desktop, check state ( online or offline ) of Computers ( IP addresses ) or TCP Services on LAN or Internet

---
3177) Office & Home 2.1
Link your office PC and home PC, so that you can transfer files between them.

---
3178) Happy Scroller Menus 1.11
Scrolls messages with hyperlinks attached - numerous themes available

---
3179) LanToucher Instant Messenger 1.33
LanToucher Instant Messenger is messaging software for your office or home LAN

---
3180) Smile Brush 1.0
Using this program you can easily insert animated smiley images in your e-mails.

---
3181) NetPicker 2.0
Save information from the Web in an organized manner.

---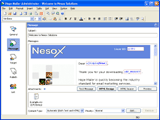 3182) Hope Mailer Standard Edition 1.32
Newsletter and email marketing, publishing and tracking software

---
3183) PostScope PDF Mailer 1.0
PostScope is a printer driver

---
3184) Emoticons Mail 3.2
Quickly insert graphical smileys into your Outlook email messages.

---
3185) GoodMorning! 1.0
Let's start the day with a smile! For free!

---
3186) TrueClean 1.2
TrueClean will protect your privacy after you are done surfing by removing all traces of your activity – nobody who uses your computer after you will know what you have done or where you have been

---
3187) OutlookDisclaimer 4.0
OutlookDisclaimer is a tool to automatically format outgoing email.

---
3188) TFTPDWIN 0.3
Multithreaded TFTP server for Windows

---
3189) Logins 1.1
Internet transaction database program to manage internet accounts

---
3190) WebAngels 1.0.1
make you browse the web more conveniently

---
3191) Easter Kids Email Stationery 1.0b
Set of 12 scrolling, musical email stationery for Easter. Self installing.

---
3192) mYspike 3.0
mYspike - The Auction Tool

---
3193) WipeTrace 1.3
Protect your internet privacy

---
3194) Mercury Mailroom 1.1
Store FAQs in a database, search them and paste the answer in one keystroke.

---
3195) Labels And Cards Pro 2.0.6
Labels, cards and barcode software with databse support

---
3196) News Watch 1.0
Get only the news that you need.

---
3197) UnWrap 1.7
Removes unwanted line-returns and other clutter from e-mail and documents

---
3198) Active Web Reader Customizer 1.23
With the Active Web Reader Customizer you can now distribute your own RSS reader that includes your feeds and web pages

---
3199) Flexiblesoft Ping 2.0
The FS Ping useful in testing and debugging TCP/IP troubles.

---
3200) Webcam Toolkit 3.06
WebCam Toolkit is professional image capture software

---


Browse Pages: [1] [2] [3] [4] [5] [6] [7] [8] [9] [10] [11] [12] [13] [14] [15] [16] [17] [18] [19] [20] [21] [22] [23] [24] [25] [26] [27] [28] [29] [30] [31] [32] [33] [34] [35] [36] [37] [38] [39] [40] [41] [42] [43] [44] [45] [46] [47] [48] [49] [50] [51] [52] [53] [54] [55] [56] [57] [58] [59] [60] [61] [62] [63] 64 [65] [66] [67] [68] [69] [70] [71] [72] [73] [74] [75] [76] [77] [78] [79] [80] [81] [82] [83] [84] [85] [86] [87] [88] [89] [90] [91] [92] [93] [94] [95] [96] [97] [98] [99] [100] [101] [102] [103] [104] [105] [106] [107] [108] [109] [110] [111] [112] [113] [114] [115] [116] [117] [118] [119] [120] [121] [122] [123] [124] [125] [126] [127] [128] [129] [130] [131] [132] [133] [134] [135] [136] [137] [138] [139] [140] [141] [142] [143] [144] [145] [146] [147] [148] [149] [150] [151] [152] [153] [154] [155] [156] [157] [158] [159] [160] [161] [162] [163] [164] [165] [166] [167] [168] [169] [170] [171] [172] [173] [174] [175] [176] [177] [178] [179] [180] [181] [182] [183] [184] [185] [186] [187] [188] [189] [190] [191] [192] [193] [194] [195] [196] [197] [198] [199] [200] [201] [202]