301) Catch Cheat Product 1.0
The top selling monitoring software.

---
302) WinRadius (100 users) Application 1.0
WinRadius is a standard RADIUS server for network authentication, accounting. I

---
303) Outlook Messenger [500 User License] App 1.0
Instant Messenger for LAN with Microsoft Outlook Plugin to share Emails,Contact

---
304) Network Eagle Monitor Pro Product 1.0
Network Eagle Monitor Pro : Powerful network monitoring and alerting software.

---
305) Megaping Software 1.0
MegaPing is the ultimate must-have toolkit that provides all essential utilitie

---
306) Advanced Subnet Calculator 9.1
SolarWinds Calculator creates all subnets with CIDR, real-time DNS & PING tests.

---
307) IPSwitcher Basic Application 1.0
TCP/IP Settings Change without Reboot, Applicable to Various Network Environmen

---
308) Cirrus Configuration Manager 3.5
Solution designed to streamline and automate network configuration management.

---
309) ADMLink NI 1.81
Automation for Hardware and Software Inventory, Management and Compliance

---
310) ADMLink ESD 1.81
Automation for Installation and Upgrade for desktop software across LAN or WAN

---
311) NWM NETWORK MONITOR 6.1.02115
Netvizor- A Network Surveillance & Monitoring Software for home or corporate use

---
312) INSYSTEK NSMC 4.2.0
Inventory Manager provides automated asset discovery, software usage and license

---
313) DEKSI Network Manager 4.9
An advanced, powerful, and feature rich network Monitor

---
314) Paessler SNMP Tester 2.2
Test and debug SNMP requests against a device in your network.

---
315) TWRoute 1.0
Trace to Host

---

316) First Alert Service Monitor 09.05.01
Monitors Internet Services and alerts the user with a verity of methods if down

---

317) NetTaskExec 1.0
NetTaskExec schedules programs and commands to run on network computers.

---
318) Internet Access Monitor for MS ISA Server 3.9
Monitoring of company Internet bandwidth usage

---
319) Desktop Surveillance Personal Edition 6.0.3
Omniquad Desktop Surveillance is a powerful Monitoring and Access Control tool.

---
320) News scrolling in window title (rss-xml) 1.0
With News Scrolling In Window Title, get Worlds latest TV news right on your desktop

---
321) CliMail 1.0.0
CliMail is a set of command line utilities designed to send and receive email.

---
322) Internet Access Monitor for Proxy+ 3.9
Monitoring of company Internet bandwidth usage

---
323) LabTech NMS 1.5
Windows Network Management and Monitoring System with Time sheets and Ticketing.

---
324) LBE Web Tools 3.1.1
Monitor up to 4 websites. Open multiple websites with one click

---
325) ihelpcenter 3.1
Remote control your PC at ihelpcenter.com even if both sides behind firewall.

---
326) Antamedia DHCP Server Software 1.2
Antamedia Free DHCP Server - Windows DHCP for XP, 2003, Vista and Servers

---
327) Mediaform Print Tracker 4.0.0.68
Print Management Software

---
328) NetWrix VMware Reporter 1.0.12
Freeware reporting for VMware Infrastructure

---
329) Syslog Watcher Personal Edition 2.7
Free syslog collector and analyzer for Windows platform, easy to install and use

---
330) NetWrix Services Monitor 1.1.07
Monitors and alerts failed Windows services on multiple computers

---
331) NetWrix Virtual Machine Sprawl Tracker 1.1.07
Reports inactive virtual machines to prevent virtual machine sprawl

---
332) WinNetstat 1.0.0
WinNetstat is a graphical netstat that also shows what process owns which port.

---
333) Convert IPv4 to IPv6 Software 7.0
Change old IP addresses to the new IPv6 standard.

---
334) WebSpy Analyzer Standard 4.3
WebSpy Analyzer Standard allows you to see ALL organizational Internet activity

---
335) Syslog Watcher Standard Edition 2.7
Syslog collector for Windows platform. Easy-to-use and fuctional.

---
336) Automatically Log Internet Connection Status Software 7.0
Automatically log internet connectivity at specified intervals while working.

---
337) Save Internet Explorer Cached Images and Videos Software 7.0
Save images and videos that were downloaded when browsing to a local folder.

---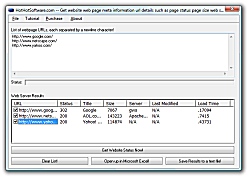 338) Get website web page meta information url details such as page status page size web server page title and more 9.0
Get website web page meta information url details such as page status page size

---
339) Google Maps Save Multiple Locations As JPG Image Files Software 7.0
Save Google Maps locations as image files at once.

---
340) Remote Network Watcher 1.1.2
Get to know every little process going on in your network!

---
341) RACsuccess time toolbar 1.0
This is a time browser toolbar. View clock with current time with this toolbar.

---
342) AustinTaxis 1
Austin Taxis calculator. Best one there is to calculate chmod. Made by Austint.

---
343) RACsuccess games toolbar 1.0
This is a games browser toolbar. Play games with this toolbar.

---
344) PC Monitoring Software 4.83
Real-time pc monitoring, content filting, employee monitoring

---
345) AbByte RemoteRun 1.5.0
Program allows you to remotely execute commands on multiple computers.

---
346) Real Estate Listings 1.0
Chmod calculator for folder permissions

---
347) SolarWinds IP Address Tracker 1.0
Break Free from Spreadsheet-Based IP Address Management

---
348) ManageEngine MSP Center Plus 7
MSPCenterPlus is an integrated MSP platform that combines RMM, HelpDesk, and PSA

---
349) AdventNet Firewall Analyzer 5.0
Web based Firewall,VPN and Proxy Server Log Analysis and reporting tool

---
350) AdventNet EventLog Analyzer Free Edition 5.0
Log Analysis & Reporting for distributed Windows & UNIX hosts Routers & Switches

---