1) MAGGI-Hairstyle and Make-up Software 6.0
MAGGI changes the color of eyes, lips and face, modeling and color hairstyles

---
2) Adobe PhotoShop 7.0 Trial
Drawing tools, filters, color adjustment capabilities, and other tools

---
3) DreamLight Photo Editor 2.61
Easily add many special dream effects onto your photo with DreamLight Photo Edit

---
4) FunPics! - Caricature Maker 1.5.6
Make funny Caricatures from Photos.

---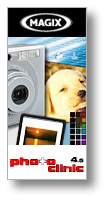 5) MAGIX Photo Clinic for free 4.5
Brilliant picture editing - simple, fast & ingenious! A full version for free!

---
6) Photo Collage 1.30
Photo Collage is a collage maker that is capable of creating eye-catching photo collages

---
7) Ulead PhotoImpact XL
Ulead(R) PhotoImpact(R) XL gives you the most innovative image editing tools for the PC

---
8) WBMPcreator 2.10
Create WBMP images "on the fly", convert files into WBMP

---
9) PhotoImpact patch 7.0
This patch includes enhancements

---
10) Dup Detector 3.0
Find duplicate and near duplicate images by opening and reading image pixel data

---
11) Giffy Image Convertor 2.3
GiFFY is a free utility that can convert

---
12) Photo Converter 2.0
Photo Converter 2

---
13) Magic Photo Editor 4.81
Easilly blend photo onto another picture. Add pretty flowers, cartoons and frame

---
14) SuperJPG 5.2
SuperJPG is an image file viewer and cataloging utility

---
15) !Magic Mirror Maker 5.58
Distorting face picture and producing surreal effects!

---
16) FunPhotor 10.72
Fun Photo Creator - Put Your Face on Fantasy & Fun Photo!

---
17) Sketch Master 4.0
make pictures with Frame,convert photo to sketch,input photo from PC Camera

---
18) !Funny Photo Maker 5.58
Fun Photo - Put Your Face on Fantasy & Fun Photo!

---
19) FixFoto 2.74
Easy to use ranging from Red-eye reduction over Brightness

---
20) Frame Photo Editor 4.0.2
Photo editor to blend photos together, decorate pictures with frame, text, clips

---
21) Magic Mirror 7.00
Distorting face picture and producing surreal effects!

---
22) PaintStar 2.70
PaintStar is a Versatile Digital Image Processing Software

---
23) Bleach Bypass PRO 1.21
Photoshop-compatible filter/plugin to simulate the bleach bypass process

---
24) Adobe PhotoShop 7.0.1 Update
A new update version 7

---
25) Photo Frame Maker 2.5
Add the Cool Frame to Your Photos!

---
26) FaceOnBody 2.1
The only photo editing software designed for placing any face on any body.

---
27) Portrait Professional 3.3
Amazing photo touch-up software, bring out the best in your subjects

---

28) Background Remover 3.1
Fast and easily extracts objects from a complex background of a digital image.

---
29) Auto Photo Editor 8.81
Automatic Batch Photo/Image Editing Converter Software

---
30) SketchUp 5.0
SketchUp is a deceptively simple, amazingly powerful tool for creating, viewing, and modifying 3D ideas quickly and easily

---
31) PCFoto 1.0
Convertion of film negatives scans to positive prints using a PC

---
32) CorelDRAW® Graphics Suite 12
Ideal for both professional designers and business people, CorelDRAW® Graphics Suite 12 offer a comprehensive graphics solution

---
33) Image Shrink 1.0
Shrinks jpeg images in 2 mouse clicks to send them by e-mail.

---
34) ImageCutter 2.5
Use to split image,The maximal trait is that very simple to manipulate it! Support drag the image from explorer and split the image firsthand by click right key in explorer

---
35) Photo Pos Lite image editor 1.24
An image editor that offers a variety of features for image and photo enhancing

---
36) Spriteforge 3D 2 2D Spriteset Renderer E1.5:R1.6
Create Sprites for 2D games in no time from animated or 3D models!

---
37) Multi-Page TIFF Editor 1.4c
Program to create or edit multi-page DCX or TIFF files.

---
38) Focus Photoeditor 5.0
Versatile, professional photo and image editing software

---
39) SlowView 1.0 RC2
A free multimedia viewer

---

40) ReaJPEG converter to JPG 3.5
Image converter to JPEG. It's simple.

---
41) MakeUp Pilot 4.2
Software for doing makeup directly on your photos

---
42) Pixels 1.5
New, a very useful tool, "Find Duplicate Images"

---
43) Virtual Painter 5
Turn your favorite digital photos into beautiful paintings in seconds!

---
44) Sticky Photo 2004 1.84
Sticky Photo 2004 helps you to create the funniest photo stickers by simply capturing your emotions from the PC camera in real time

---
45) Myself on Posters 1.1
With Myself on Posters, you can easily replace the face of the person on a poster with your own one after several simple steps

---
46) PaintBuster 11
A full-featured Windows image editor for image creation and photo manipulation.

---
47) Diashow pro 9.8.23
Produce very easy and fast slideshows and include your favourite songs from CD

---
48) PowerPoint 1.25
The best tool to replace the paint brush of Windows

---
49) Photo to VCD slideshows creator v3.1.0.45
#1 photo to VCD slideshow creator (Photo2VCD studio 3, formerly as Photo2VCD Standard ; Photo2VCD Professional) is a powerful but easy to use utility that allows you to archive your favorite digital photos into DVD/VCD compatible MPEG files with background music and up to 127 transition effects.

---
50) EasyPeg 1.02
A photo editor that supports JPG, JPEG, PNG, BMP, EMF, WMFand ICO formats

---